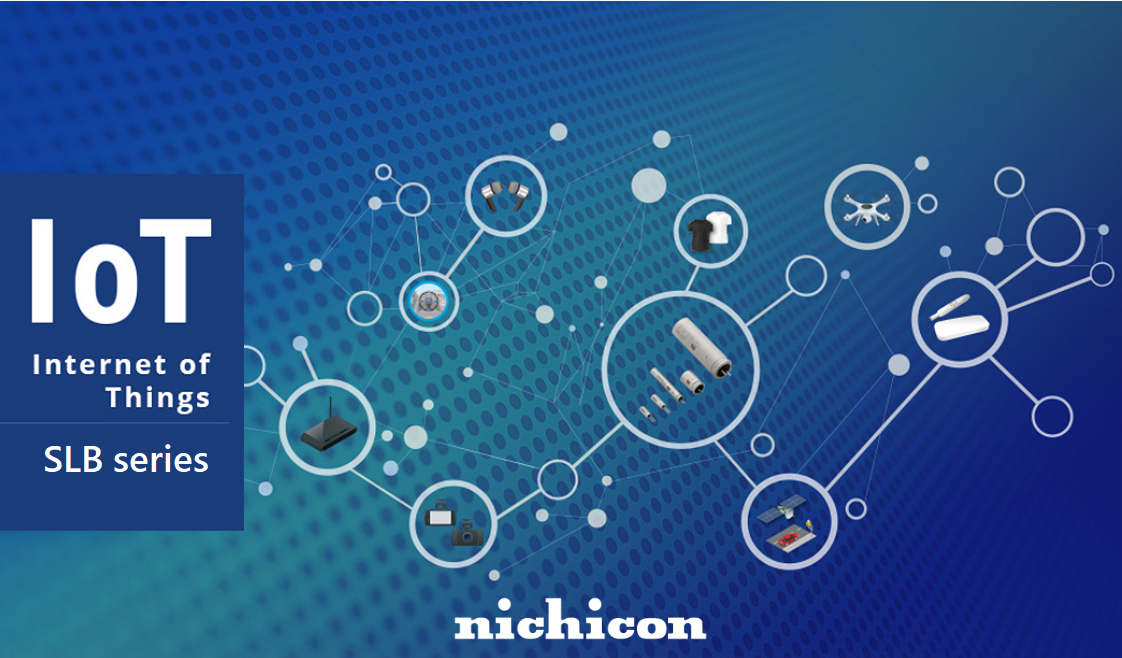 The SLB Series of high-performance small lithium-ion rechargeable batteries
SLB series is a small li-Ion rechargeable battery developed for IoT, wearable and energy harvesting devices. The SLB series uses lithium titanate as the battery anode material and was developed as a "high power and high capacity" battery that combines the power density of a supercapacitor and the energy density of a battery. The SLB series has five features that make it ideal for power supply solutions for small devices.
1 Long life
An overwhelming cycle life of up to 25,000 cycles compared to the several thousand cycle life of ordinary lithium-ion rechargeable batteries.
Contributes to solving the "power supply problem," which is an issue in IoT, and reduces maintenance costs.
2 Rapid charge and discharge
Supports high-rate charging and discharging of up to 20C, enabling rapid charging and discharging in approximately 3 minutes.
Maximum performance is achieved in a variety of situations that require instantaneous high output current.
3 Low current charging
Due to its low internal resistance, the SLB works with the small currents obtained from energy harvesting such as light, heat, vibration, and radio waves for power storage, where ordinary lithium-ion rechargeable batteries cannot work with these small currents.
This is a self-sustaining power source that uses natural energy, making it possible to build IoT systems.
4 Low-temperature characteristics
The SLB series maintains more than 50% of its capacity even at -30°C, compared to ordinary lithium-ion rechargeable batteries, which can lose 50% or more of their capacity at temperatures as low as -20°C.
This ensures a more stable supply of electricity even at cold temperatures.
5 Safety
The SLB uses materials that have an extremely low probability of rupture or ignition even when used in harsh conditions
The SLB can be used safely in the wearable and healthcare fields.
Lineup
0.35mAh in 3×7 case size, 14mAh in an 8×11.5 case size and a150mAh in a 12.0 x 40 case size are in production now. 0.8mAh in a 3.3x 9mmm case size and a 4mAh 4×25.5mm case size will be in production starting in April of this year. By adding these intermediate sizes we addressed the lack of capacity and case sizes that the larger sizes cannot accommodate. The SLB is ideal for main and backup power supply applications, mainly for IoT, and can be charged and discharged at high rates.
Development of SLB Battery Pack
With an eye on the industrial equipment and automotive related markets, we have developed a battery pack with a configuration in which cells are connected in series to increase the voltage. It can be customized to meet the voltage specifications of each application, and is equipped with protection functions against over-charging and over-discharging, a cell balancing function, and other functions that enable safe use while taking advantage of the SLB series characteristics.
Adoption cases
The SLB series has been adopted in a wide range of fields from consumer to industrial devices, including stylus pens that can be stored in smartphones, maintenance-free environment sensors that support energy harvesting, and river level sensors.
About the vision
Nichicon's SLB series of small lithium-ion rechargeable batteries are devices with excellent input/output density characteristics and durability as described above, and are expected to be deployed in a wider range of applications by expanding the lineup.
Specifically, these devices can be used in such applications as maintenance-free wireless IoT edge devices that utilize environmental power generation, and in data communication applications that take advantage of their high-rate discharge characteristics and cycle characteristics that are resistant to repeated charging and discharging.
In order to further expand the market, we are developing a product that can handle 85°C, which is an expansion of the current category temperature range of -30 to 60°C. Samples are scheduled to be available in the spring of 2022 or later. We are aiming for device characteristics that can be used not only in consumer applications but also in automotive and industrial equipment, and we will continue to develop not only single-cell but also multi-cell products.